Graphic Design Bundles
Here you can download premium graphic design bundles for a fraction of their retail value! Whether you are looking for a nice new set of fonts, clipart, svg files, or some awesome graphics, you can always be sure to bag a bargain here at TheHungryJPEG.com. We work hard to ensure that each graphic design package is of great value and also desirable. If you have any suggestions on what you would like to see in a bundle, then please let us know at hello@thehungryjpeg.com
Popular categories: Font Bundles | SVG Bundles | Font Collection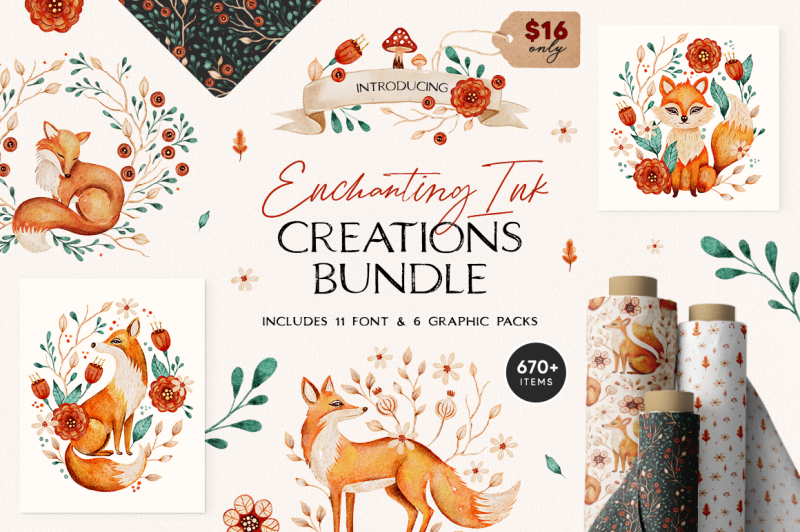 Enchanting Ink Creations Bundle
  Introducing our Enchanting Ink Creations Bundle! Dive into a world of artistic possibilities with this versatile design collection. Featuring 17 unique collections and over 670 files, this bundle is a treasure trove of creative fonts, illustrations, hand-drawn elements, and graphic resources that will elevate your projects. Whether you're a designer, illustrator, or crafter, these inked artworks will add a touch of magic to your creations. Don't miss out on this limited-time offer – get it for just $16 using code INK25 during our 48-hour sale, ending on September 27, 2023. Unleash your creativity today!
View Bundle Here
Designer Bundles
Our high-quality designer bundles are put together with careful thought. Get your hands on the premium graphic design bundles on sale now.
Expired Bundles
Browse through our fantastic collection of graphic design bundles. From font collections to SVGs, we have it all.
FAQ
1. What are cliparts?
Clipart is a type of electronic graphic art that consists of simple illustrations rather than images.
2. What are cliparts used for?
Clipart is essentially a digital image file that is used to add visuals when imported into a document or program. You can find clipart all over the internet in many different forms.
3. What does SVG mean?
SVG stands for scalable vector graphic file. SVG is a common graphics file format used on the digital media to generate two-dimensional pictures. Since it is scalable, it essentially means that you can stretch the file to the dimensions of your choice without making it pixelated or losing on resolution.
4. What are SVG files used for?
The SVG file format is widely used on websites to show two-dimensional graphics, charts, and drawings. Furthermore, because it is a vector file, it may be scaled up or down without losing any resolution.
5. Do your graphic design bundles come with commercial license?
Yes. Most of our design bundles have a complete commercial use license with them. You may click on the bundle of your choice to look for details.